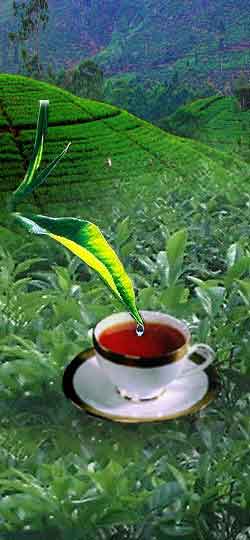 Even people who have never heard of Sri lankas are familir with CEYLON TEA. Sri Lanka though small in Size produces more tea than any other country on earth.

CEYLON TEA is accepted as as worlds finest Tea from 18th century.

The story of Ceylon Tea begin in year 1849. A scotsman named James taylor cleared 19 Acres of Forest in the region Hewahata, Now known as Loolkandura Estate. The major export crop coffee suffered a active leaf fungus decease called hemeleia vastatrix commonly known as coffee blight, resulting defoliation of coffee trees.

Tea in Sri Lanka has come laong ways since James Taylor brew his first cup of Tea in the verandah of his bungalow. Today best tea is grown in three elevational regions of Talawakale, Hatton, Nuwaraeliya, kandy, Bagawantalawa, Haputale, Bandarawela, Badulla,Maskeliya and Nawalapitiya.


Tea Cultivation

Tea Plantations

Tea Tour

Tea Factory Hotel